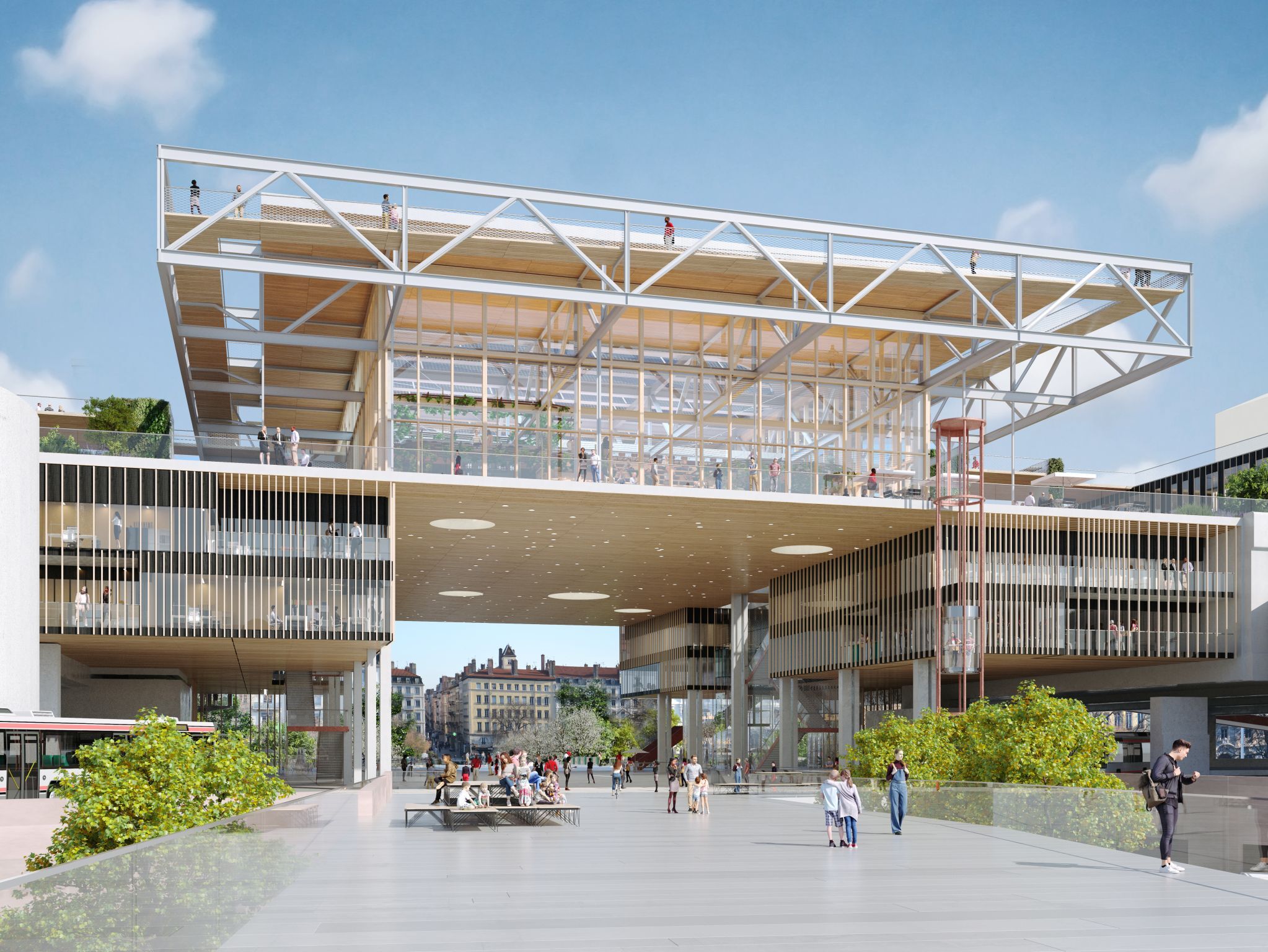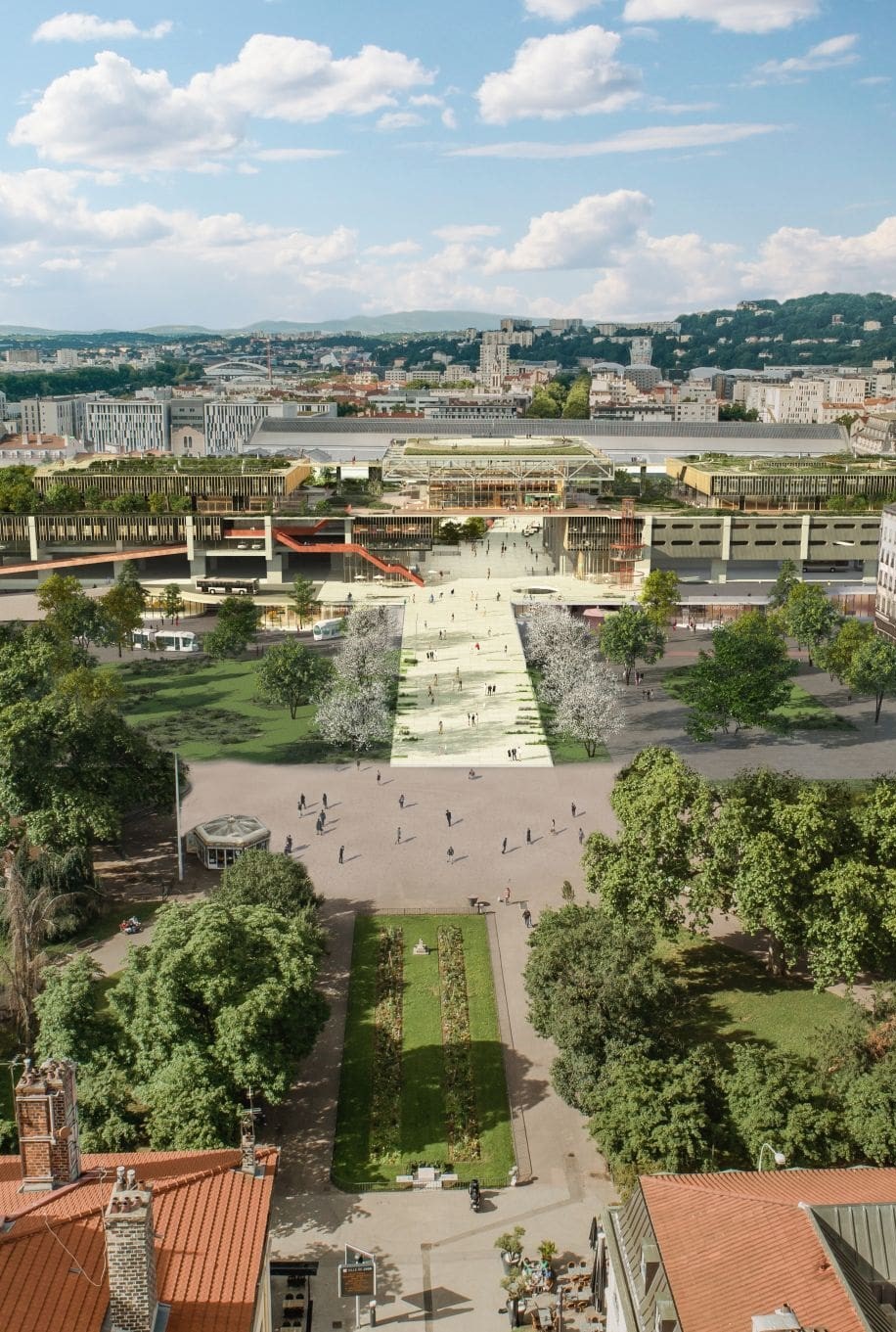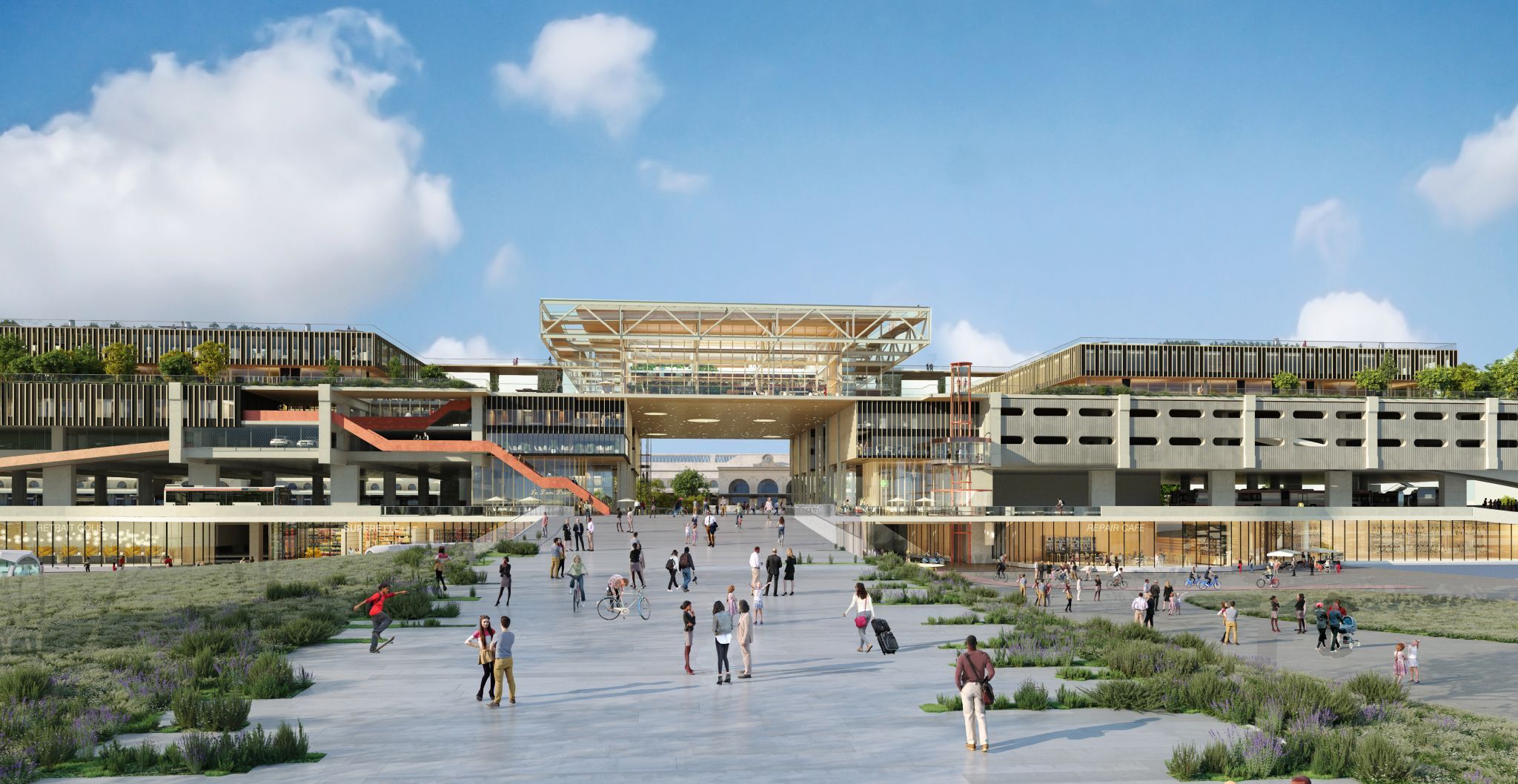 Lyon Perrache exchange center
Tasks
Environmental acoustic mission, Protection of nuisances linked to the passage of the tram
Architect
Dietmar Feichtinger, exndo, Baseland, Aleppo Architects
As part of the transformation of the confluences district of Lyon, the Lyon Perrache exchange center will be completely redesigned so that the inhabitants can reclaim this space (hotel, offices, terraces, restaurants) while guaranteeing their comfort in a district heavily polluted by transport routes, the bus station and the passage of the tram.
Methodology
The acoustic firm Tisseyre + Associés has developed a methodology for joint work with architect and urban planner, particularly relevant in the context of mixed projects such as that of the Lyon Perrache exchange center. Indeed, our 4D digital soundscape modeling tool in the future state of completion, the BIMAE®, is an essential work support for close collaboration with architects and urban planners at all stages of the project. By modeling the sound evolution during a day of transport routes and human activities, our tool checks the acoustic balance between these different sound sources in order to avoid nuisance. In addition, the joint study of the internal and external functions of the projects and the 3D visualization of the sound propagation at the foot, in the facade and around a building makes it possible to anticipate, optimize and integrate the acoustic solutions within urban furniture and the architecture of the project to create sound atmospheres consistent with the uses.
Tasks
Environmental acoustic mission
Within the framework of the regulations, the sound level linked to the activity of a building cannot emerge in relation to the levels of the pre-existing soundscape. Thanks to BIMAE®, we established the criteria for maximum permissible sound levels day and night on the one hand, and modeled the soundscape in the future state of completion hour by hour on the other hand. This map served as a basis for joint work with the town planner in order to identify the points of acoustic tension and to propose upstream integrated solutions adapted to the uses at each hour of the day. For the CELP project, we notably used biophilic solutions. Beyond being a source of well-being for the occupants of a district, the reintroduction of plants in our town planning constitutes a real opportunity for acoustics. Indeed, the foliage makes it possible to mask the sound and visual identification of unpleasant and unwanted sound sources. Depending on the choice of species, the foliage produces a masking and pleasant noise making it possible to reduce the identification of nuisances.

Search for sound balance between noise from transport (left) and noise from human activities (right) between 12 and 1 p.m.
Protection of nuisances linked to the passage of the tram
Rather than being satisfied with sound averages of tram noise over a day, thanks to BIMAE®, we are able to model the sound impact of a tram in operation from the design stage, which makes it possible to size integrated and optimized solutions. and which guarantee greater comfort for users.

Average noise comparison over a day of transport noise (left) and noise related to the passage of the tram (right)